I'm attending the 4th Annual Lifestyle Blogger Conference March 27 – 29th in Los Angeles.  I want my blog to go BIG in 2014 and am looking at the business of blogging with new eyes.  I have the content, the interesting viewpoint and am now focusing generating real income from my lifestyle blog.  HUGE thanks to #LALLBLOG14 and Lizza Monet Morales  aka  xoxolizza @twitter  & xoxolizza @Instagram for their sponsorship of my attendance!!!!!
All of the panels will teach you how to be a better blogging businessperson.  From the legal rights and wrongs, to making sure you stay on the right side of the IRS to being an ethical blogger.  I plan to take copious notes, ask questions and LISTEN.  As a professional in any capacity you can always find something new to learn to make you better at your job.  It's especially true with blogging since the field is crowded!
I'm especially excited to attend  the panels because of  my plans to increase my Geek Projects.  I need sponsors to make them successful and to be able to fully focus on my two newest ideas to start filming.  I recommend anyone who wants to take advantage of the wealth of knowledge by the great panelists to attend this conference.   See the schedule of the event below and buy tickets at eventbrite.  
It's 2014 and it's time to take your blog to the next level!  So Go Big or Go Home .. or better still go to the 4th Annual Lifestyle Blogger Conference!!!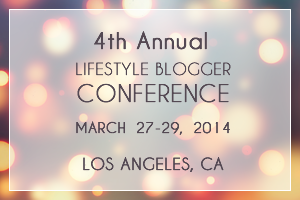 The Fourth Annual National Lifestyle Bloggers Conference  (#LALLBLOG14) is a two-day, one-track conference focused on business development and growth for bloggers that are focused on "Going Big, or Going Home!"
Conference Highlights Include:
Invitation to the Opening Night kick-off Reception
Three Keynotes
Two sponsored lunches
Snacks +  Drinks
Behind the scenes tour of the LA Mart
Blogger Junket (One-on-one blogger meetings with brand reps)
SWAG Bag (Valued at $100+)
Opportunity to win hourly prizes
Seven workshops/panels, including:
* Networking for Bloggers in the Social Media Age (Panel)
Expert speakers will provide you with key tools, tips, and must do's to help you grow your blogging network and avoid burning your bridges
Speakers include:  @district2ptco  @cassiebetts  @moxxe  @michelleemails @lyssacurran 
* Legal 101 for Bloggers
Rosa Elena Sahugun, one of LA's leading lawyers, will provide #lallblog14 attendees with do's and don't's in contract law.
She will also discuss libel, slander and defamation and how to keep your blogging business on course.
* How to create a Digital Strategy to Promote and Grow your Blog/Online Business (Panel)
The Digital Strategy panel has the expertise of former FIDM instructor and international marketing professional John Urquiza.
Joining John Urquiza on the Digital Strategy panel will be @mayhemstudios @vickyayala
This #powerhouse panel will make you think outside of your blog and create a Digital Strategy that is well rounded. 
* Not Just a Blogger – Showcasing bloggers that have used their blog as a spring board to further grow their career (panel)
This panel of bloggers made a career outside of their blog, and will share tools and tips for other bloggers to follow in their footsteps.
@MarieDenee (The Curvy Fashionista)  @norah_s  and @marianthefoodie will teach attendees how to utilize their blog for career growth.
* Maximizing SEO for your Blog/Online Business (workshop)
Learn world-class SEO knowledge from recent keynote from Engage Mexico and founder of Target Latino, Claudia Havi Goffan.
Claudia has created a presentation with SEO strategies that are done by leading Fortune 500 brands that bloggers can use to grow their online presence. 
* Tax Do's and Don't for Bloggers (workshop)
The Tax For Bloggers workshop to help us all get our blogging business on course.
A leading Los Angeles "Enrolled Agent," which is NOT the same as a regular tax pro, will help you navigate tax law to help you grow your business
* The Ethics of Blogging (panel)
This is our "signature panel."
Panelists include @mamavation founder @bookieboo, journalist turned blogger@teresagarza, entertainment and lifestyle PR agency founder and radio personality @VesperPR, and Founder and executive director of @DIYgirls and MIT grad, @LuzRivas.
* and much, much, more!!